比特币BITCOIN BTC 以太坊 ETHEREUM ETH 莱特币LITECOIN LTC 、TEZOS $XTZ 、EOS $EOS 等ICO资产托管增值服务 QQ:47079569
比特币钱包BITCOIN CORE WALLET wallet.dat密码恢复服务,请找数据恢复服务商 QQ:47079569
EOS的SDK Dawn在GITHUB上发布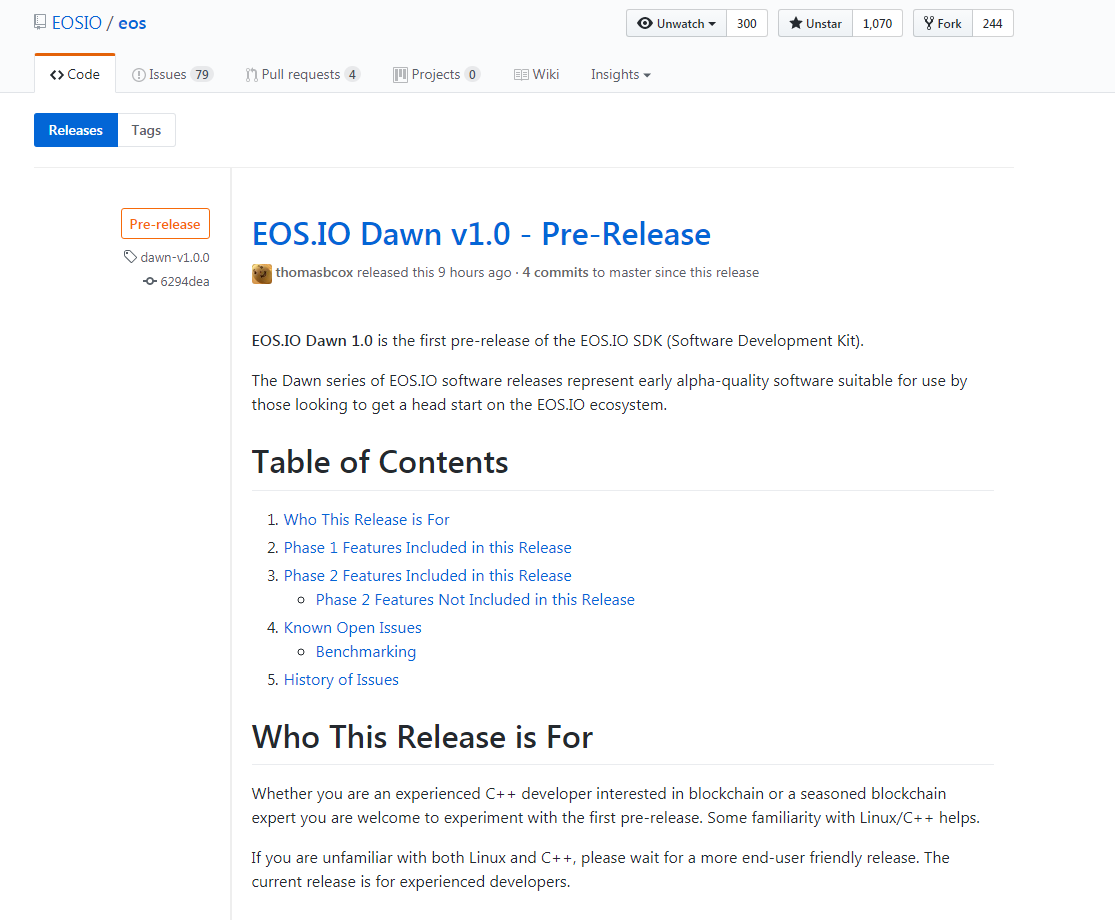 EOS.IO Dawn 1.0 is the first pre-release of the EOS.IO SDK (Software Development Kit).  The Dawn series of EOS.IO software releases represent early alpha-quality software suitable for use by those looking to get a head start on the EOS.IO ecosystem.
What's in the Release?
For the full list of features included in this release check the Release Notes.
This release includes all Phase 1 features, including documentation and guides for developers to build a private P2P network  to test smart contracts.
In addition, we were able to include some features from Phase 2 ahead of schedule, a full list of those can be found here in the Release Notes.
For Developers with C++ and/or blockchain experience you can Get Started here.
Updated Website
We've also updated the EOS.IO website to better highlight all of the news, releases, and excitement about this software.  As well as the new homepage, we have an expanded resources page where we will be regularly adding new content related to EOS.IO, including announcements, development guides, videos, and community content. EOS Explorer will become the best single location to find out what's new, though of course we will continue to share everything on Steemit and through our mailing list as well.
Looking Ahead
EOS.IO Dawn 2.0, the next major pre-release, will come by the end of the year. EOS.IO Dawn 2.0 will include several critical features that are not present in EOS.IO Dawn 1.0 including:
* Resource Rate Limiting (preventing spam / abuse)
* Merkle Tree Generation (for cross chain communication)
* Upgrade Management and Governance
* More robust SDK
* General Infrastructure improvements
* Example Snapshot from ERC20 tokens
The goal of EOS.IO Dawn 2.0 is to be functional enough that one could launch a live blockchain.
There's still much to be done, but everyone working on the EOS.IO software is very excited to have reached the end of Phase 1 in such good shape.  We look forward to continuing to deliver on the promise of blockchain technology.
Sincerely,
block.one